Well, Monday, returning to Phoenix 1pm, the AC stopped working in the Frontier, blower motor blew out hot air (projected to be 117F here today). About 10 minutes later cool air returned, then stopped again 10 minutes later, as I was approaching home. So far, all I've done is confirm that compressor was not turning when the hot air was blowing.
So trying to figure when/if is a good time to work on this, scheduled to go back up north Wednesday, and 12F projected for tomorrow. Heat warning extended until Saturday evening now. I might "have to" take the B2200 up north, driving without AC when it's this hot (figure 140-150F 4 feet above the pavement) is a real chore.
I need to see if compressor is getting voltage when the AC clutch stops engaging, that's #1. Since it started blowing cold again,
+++++++++++++++++++++++++++++++++++++++++
Braved the 117F afternoon temperature, took a look see. AC clutch was engaged then; saw oily residue on the high pressure rubber line from compressor to condenser, actually found a tiny pinhole leaking refrigerant and oil when the AC was operating...
Lower part of the hose is on the right in this picture, flowed down by gravity.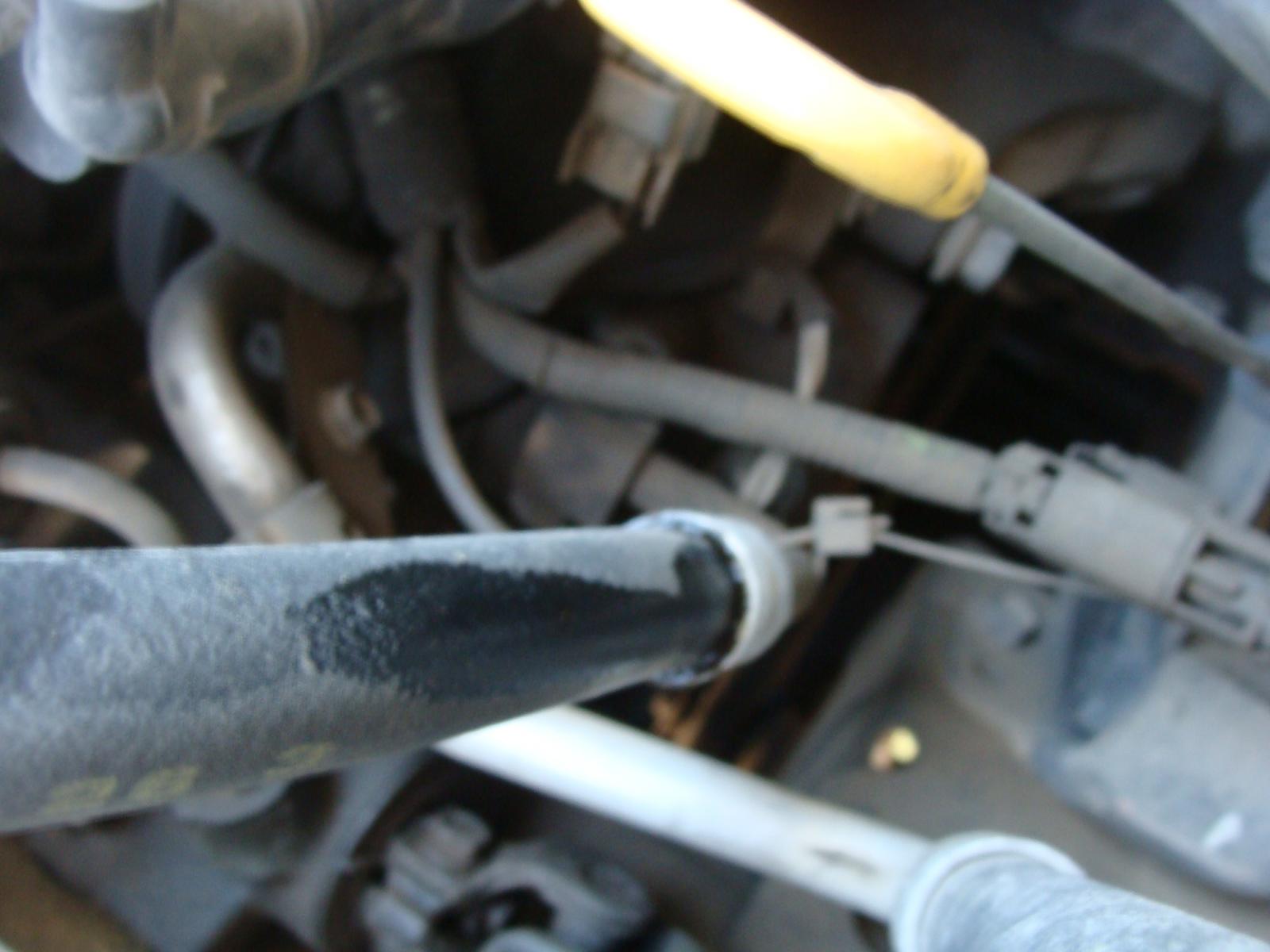 This is dealer part 92490-3S501 which sounded discontinued when I called Courtesy Nissan Parts in Texas. However, for half that price ($58) there are aftermarket units available from your local O'Reilly.
http://www.oreillyauto.com/site/c/detail/MRY0/56134/02713.oap?year=1998&make=Nissan&model=Frontier&vi=5014082&ck=Search_02713_5014082_2823&pt=02713&ppt=C0352#availabilityTab_
So looks like "AC fun" Wednesday morning !!! Since the system still contains refrigerant (so no air got in), I will NOT be replacing the drier. I will add 1 - 2 oz. refrigeration oil that has some UV dye in it, then evacuate, check vacuum, and add R134a (NO SEALERS OR CONDITIONERS !!!).
+++++++++++++++++++++++++++++++++++++++
I'm not sure that the pin hole actually leaks when AC is not in use, as static refrigerant pressures might only be like 90 psi. But when operating, the high pressure line can get to 280 psi. This rubber line (see photo in earlier post) is very close to where one checks the oil, so there was no oily residue there just a week or two ago, this was pretty obvious; a little oil actually pooled up in the "cup" of the crimp. Many times one would be surprised how long it actually takes for a tiny leak to cause an AC system or tire to leak.
High pressure line issues are somewhat common with the old Frontiers, from what I've read, I'll tackle this early tomorrow morning. Good news is that the forecast high temperature today was reduced from 120F to 119F !!!

On my 1988 B2200, I had its high pressure line repaired for about $50 over a decade ago, that leaked at a crimp. What bugs me on the B2200 is that it has leaked about 6 oz. R-12 since last summer, and I cannot find the leak even though the system has UV dye in it (and I've got light and goggles) and an electronic detector. Prior to replacing the compressor and drier Oct. 2014 with brand-new, there were no refrigeration leaks for over a decade, so I "figure" something there "must be" the reason for the leak, but I've checked over the entire system for leaks several times (and once by a shop) and can't find a smoking gun. So I'll likely just add another can of R-12 this year from my stash.