Hello All, this is my first post on Auto AC. I'm excited to be here, seems like a lot of intelligent folks on the boards.
My vehicle is a 1993 Dodge B-150 Van. I am located in Brooklyn, NYC. I have had my van for over 10 years and it has a lot of sentimental value. I paid only $1500 for it when I got it and have pu on about 120,000 miles since it became the owner. I have done an engine and transmission swap on it, a rear end swap, a suspension rebuild (twice) and basically I have a 350-series drivetrain and suspension on a 150-series, short wheelbase van.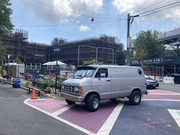 It's a fun vehicle but it was built without air conditioning—it only had heat from the factory. This has been okay for 10 years, but I finally decided to try and put air in this bad boy.
I thought about buying a junked van with AC and transplanting all the stuff over, but thought it too big of a task as I live in Brooklyn, NYC, and having a junk vehicle around is hard to do in urban areas. I also found that AC vans have a strange grate on the firewall on the passenger side that seems to be part of the sheetmetal. Plus, I have a lot of custom work going on under my dash (wiring, and amp, other custom things) and the entire dash would have to be replaced with one with holes for the vents. So, I decided to go with an aftermarket system.
I bought an evap unit from a company called ColdMaster
https://coldmasterinc.com/product-categ ... oning-kit/
in Florida. The evap unit was advertised as being good for commuter vans so I figured it would keep me icy cold. It has a rating of 22,220 BTU which I thought would be more than enough.
The evap unit:
https://coldmasterinc.com/product/unive ... v-223-100/
Under the hood, I was able to source brackets and a compressor from a junked van. I did install a new compressor, which is a Sanden 4785 repop.
CORRECTION!
It's a Denso 471-7031 New Compressor. NOT a Sanden repop.
I made all custom hoses, and source my parts (fittings, drier, binary switch, fan, condenser) from ColdHose.
For a condenser, I used a 16x28 parallel flow unit.
For a fan, I used a 14" model.
I mounted the Evap unit in the center of the van, on the ceiling above the windshield. This may seem like and odd choice, but I've seen a lot of custom vans with really cool overhead consoles in this area and it doesn't really block visible much at all.
Wish I had a better photo: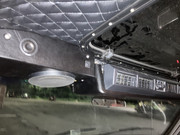 I built a custom console to go around the unit and hide all the hoses and wires, and threw a couple speakers up there as well. The console is a 3-piece unit: 2 speaker boxes and on box to cover the evap unit.
All hoses are run through the A pillars. The smartest part is the way I deal with condensation. I mounted a peristaltic pump in the speaker box, which routes water down through a hose in the A pillar as well.
Once I got the system all buttoned up (took me a LONG time to complete!) I vacuumed down and charged up the system myself. I rented gauges and a vacuum pump from Autozone and used about 5 (maybe?) cans of r134a.
Unfortunately I am disappointed! I can only get my vent temp down to about 58* on an 80* day.
I took it to 2 different AC shops and they all told me that the unit was too small for the inside of my van. Okay, that makes sense that it would never cool down the interior of my van. But should the vent temp at least be lower? I mean, I have a convertible, and even when the top is down the vents seem pretty damn cold.
Right now I am planning to add another, larger unit in the rear on the van. I have one that is rated at 35,000 BTU. Curious what you all think about this plan, also curious if I am suppose to run the evap units in parallel or in sequence. Thanks in advance!