Automotive Air Conditioning Information Forum (Archives)
Hose fitting explanation
Old Codger on Mon September 08, 2008 10:35 AM
Year: 1995
Make: Toyota
Model: Camry
Engine Size: 4 cyl
Refrigerant Type: 134a
Ambient Temp: 93

I have been flushing out my 95 Camry's system. While I was blowing out the solvent from one of my hoses I noticed that I got a burst of air out of the small hole in the fitting (the one circled in green)




Can someone tell me what the purpose of the small hole (in green) is? When I blow air through the hose should I make sure that the air comes out both the hole for the regular tube connection (in red) and the small hole (in green) or is the small hole some kind of safety relief valve that should be closed. If air comes out that (green) hole should the hose be replaced?

Similarly, how should I clean the male tube that fits into that hole?

Thanks,
OC
HECAT on Mon September 08, 2008 11:36 AM
OC,

My first thought would be that it is a manifold, and the middle hole is for bolting. Since you are getting air out that port, that thought seems shot. What does this line connect to?

-------------------------

HECAT:
www.hecatinc.com
You support the Forum when you consider
www.ackits.com
for your a/c parts.


FLUSHING TECHNICAL PAPER vs2.pdf 
Old Codger on Mon September 08, 2008 1:20 PM
Sorry, my bad. After testing the small holes a little further I believe that the one that I was worried about was not leaking after all. These fittings are found on all of the connections that I have undone so far. Here is a photo of the condenser and the compressor fittings: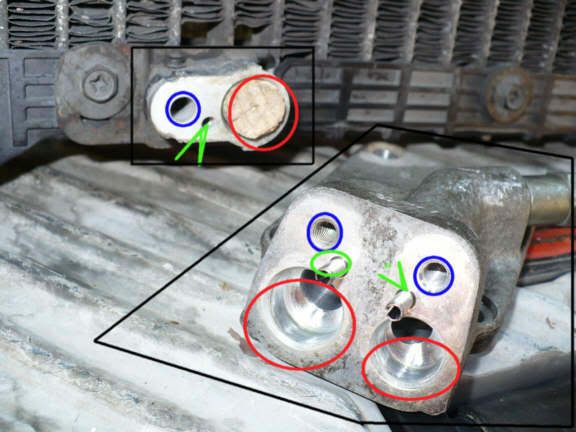 The small holes don't have any gasket seals and appear to be dead ends. The two male pins coming out of the compressor fittings are just rolled steel. Kind of like shear pins. There is no seal at the hole. I now suspect that they are just for lining up the two fittings to help you mated them up correctly.

Thanks for your quick reply. Sorry that it was unnecessary.

By the way, I feel like I am about 2/3rds of the way through changing out my compressor. I'm only working on it a couple of hours a week so it is going slow. Right now, I have everything flushed out and am ready to start buckling things back together. I figure about the time I complete the work the summer will be over. But, hey, next year I'll have plenty of cold!

OC
We've updated our forums!
Click here to visit the new forum
Copyright © 2016 Arizona Mobile Air Inc.