James89dx on Wed March 25, 2015 1:16 PM
Year: 1990
Make: Honda
Model: CRX
Engine Size: 1.5
Refrigerant Type: R134

I have always read anecdotes online over the years about the need to change the pressure switch for a "proper" R134 conversion. The problem is this is never discussed in any detail such as where and what to buy, what is different about them, etc.

Along those lines, my brother picked up several of these switches probably 10 years ago at PepBoys when they became discontinued. These are apparently "conversion" pressure switches for CRX's/Civics to be converted to R134. I'm looking into them now and can't find anything at all about them online. It's Ready-Aire #5098.

Can anybody with access to perhaps old(er) catalogs or parts listings confirm these are for use on the CRX/Civic (88-91 model)? What actually makes them different in tangible operation? I cannot find online any references to anybody actually using anything other than the OEM R12 switch on these cars even when converting to R134.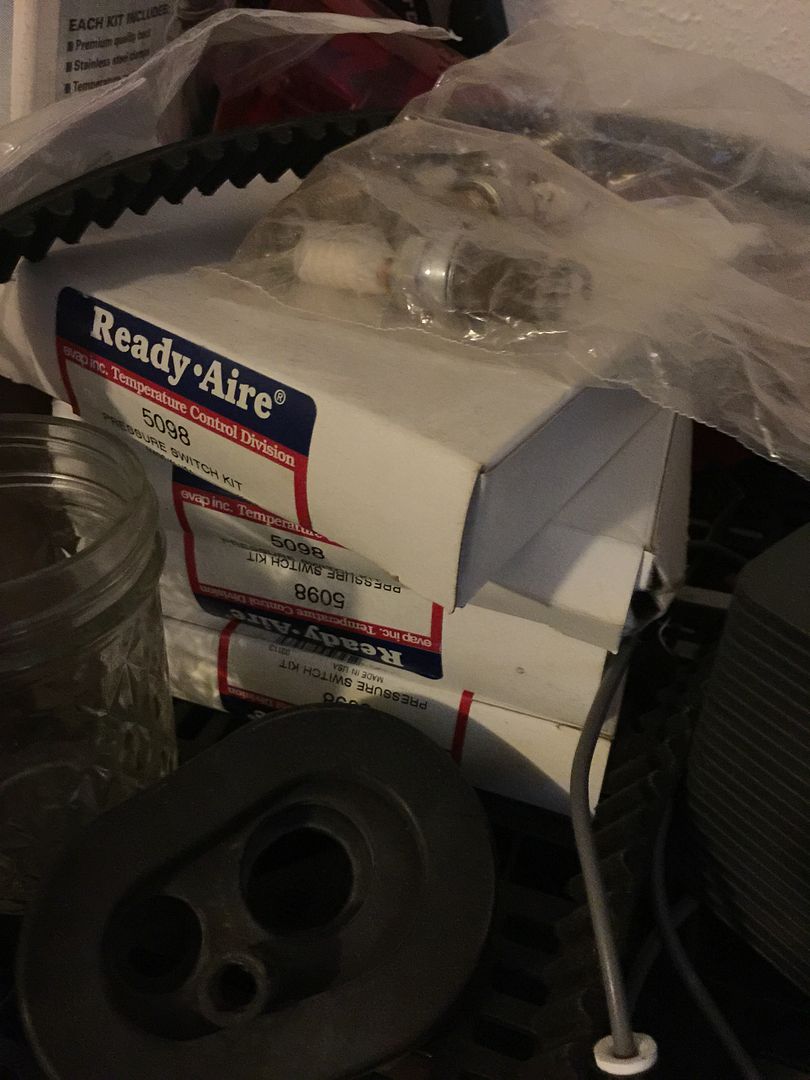 Edited: Wed March 25, 2015 at 1:17 PM by James89dx

wptski on Wed March 25, 2015 2:02 PM
I'll be darn if I can find the page but I was just looking into that yesterday. The on/off PSI points for a clutch cycling switch are slightly different for R12 and R134A if that what you are referring to.
James89dx on Wed March 25, 2015 3:20 PM
Well, I know they cycle at different points. I should have clarified that my main question is how different are the cycling points? For example, (and these are just made up numbers because I don't know what the pressures should be) - if the R12 Civic OEM pressure switch cycles on at, say, 20 PSI and then cycles off at say 200 PSI, what would be the appropriate cycle points for 134? How much do they differ?

And secondly I would really like to find out if these switches my brother bought years ago really are what he remembers them being as Civic/CRX conversion switches.

Lastly, if such a "conversion" switch is NOT readily available, what is the textbook way to deal with these pressure switch differences?
wptski on Wed March 25, 2015 9:16 PM
The switch I'm referring to cycle off at around 21psi and on at around 44psi.
Dougflas on Wed March 25, 2015 10:31 PM
Here is the scoop on the 5098

Daul Hi-Lo pressure switch kit converting R12 to R134 If the high side service port is a 3/8-24 thread use kit 5098 which contains: 90* fitting that 3/8-24 thread R12 port to R134a high side service port . also contains one male threaded pressure daul switch that screws onto the above fitting. Low pressure cuts out at 28 psi and high side cuts out at 398 PSI and on at 312 PSI also contains 48" wire harness.
mk378 on Fri March 27, 2015 5:59 PM
If your car is TXV and has a switch on the high side, it is already a dual pressure switch and you don't have to change anything.

The dual pressure switch is only to cut off the compressor in case of complete loss of refrigerant, or severe over pressure. It stays closed 100% of the time in normal operation and won't affect cooling performance.
James89dx on Tue March 31, 2015 9:43 AM
Yes the car has a TXV. The OEM switch is on the high pressure line.

What I am hoping to "cure" (or at least improve) is the frequent cycling of these older Civics with R134 conversions.

I looked up the pressure switches between the R12 Civics (88-91 like mine) and then the later 94/95 Civics that were factory R134.

The factory R12 switch is on 27/297 and off 26/390. The factory R134 switch is on 28/300 and off 28/454. This sounds to me like that if you were running r134 with the R12 switch, that the compressor would cycle off more frequently than with the 134 switch.

Am I misunderstanding this? Are you saying there would be zero benefit of having the R134 switch when converting to R134 in the R12 system? Thanks
mk378 on Tue March 31, 2015 7:21 PM
You should not be hitting 390 in any case. Test driving with gauges attached might be considered to find the reason for the cycling. It is common for the evaporator temperature switches to go out of spec and cut the compressor off before the evaporator is fully cold.

The 94 and up have a parallel flow condenser-- but it is also half the size of the serpentine in a 91. I think every car after they went to the half and half radiator + condenser arrangement in 1992 is a parallel flow, even before R-134a.

Edited: Tue March 31, 2015 at 7:24 PM by mk378

James89dx on Wed April 01, 2015 9:37 AM
Hmm, so in frequent cycling cases with the 134 conversions on the 88-91 Civics, the evaporator switch is a more likely culprit than the dual pressure switch? Because you're saying the compressor should basically not operate close to the fringes of the dual pressure switch limits? That makes sense. Assuming I am finally understanding correctly



I have worked on/been around dozens of 88-91 Civics over the past decade or so and frequent cycling seem to be an issue on all the 134 equipped ones. It's always seems to me that the compressor shuts off (for some reason) prematurely, before working down to a cold enough vent temp - a temp that it seems it could achieve if it would just stay cycled on for a little bit longer.
mk378 on Thu April 02, 2015 11:57 PM
I have a 91 and it works pretty good on 134a, though the vents don't quite get down to 40 before the evaporator switch cycles off. If it is cycling on the evaporator switch, you will hear it clicking on and off under the dash. Somewhere between 92 and 95 they replaced the mechanical temperature switch with an electronic unit that doesn't click.
Copyright © 2016 Arizona Mobile Air Inc.