BoostAddict on Thu June 05, 2014 11:38 AM
Year: 1994
Make: Ford
Model: Ranger
Engine Size: 3.0 V6
Refrigerant Type: r134a
Country of Origin: United States
I have a 1994 Ford Ranger 3.0 V6 with the original factory a/c system just over 100,000 miles on the truck. It developed a slow leak on the high side hose close to the compressor manifold a couple of years ago, but wasn't bad enough that all the charge would be lost in a years time. I knew it had to be the hose because the compressor had no oil stains on it front or back, but the hose started to show signs of very slight oil residue. I could hit the system with a bit of r134a each spring and the system would work great for the entire summer/fall. I know it wasn't the proper way to maintain the system but I don't drive the truck that often and I made sure to add enough r134a so that the operating pressures, vent temp, and compressor cycling was satisfactory.

I started looking into replacing the hose set this year and went to top the system off again to give myself a little more time. When I disconnected my gauges from the high side port, all was good for about 30 seconds, then I heard a 'pop' noise, followed by a slight hiss from the high side port – crap! I was committed now.. Last weekend I replace the low/high side hose set from the compressor to the accumulator & condenser, new accumulator, new blue orifice tube, and new o-rings/springlock springs on every connection opened.
I pulled a vacuum on the system, added 3.5 ounces of PAG46 per the service manual (drained the original accumulator by drilling two holes in the bottom and got an ounce out of it, plus added two per the factory service manual), then charged with 22 oz of r134a. The system is once again working awesome and the compressor is nice and quiet(always has been).

When I pulled the original orifice tube to replace it, there was some debris at the base of it, but not enough to clog up that section. The remaining three upper sections were all clear with no debris in the mesh. The entire four sections do have a black oil residue on them. My question is does this look like I'm on my way to black death for the original compressor or is this just normal wear for a twenty year old system with just over 100,000 miles on it?
I'd rather go ahead and replace the compressor now before I trash the condenser and new accumulator. The system is working so well though right now I hate to replace it if it isn't necessary. What do you guys think?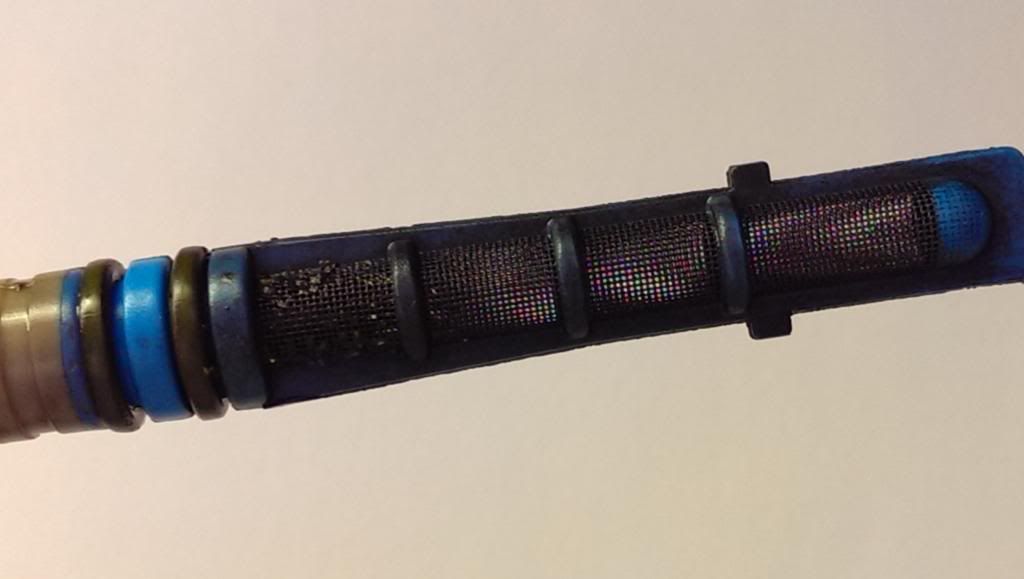 Edited: Thu June 05, 2014 at 11:41 AM by BoostAddict

TRB on Thu June 05, 2014 5:12 PM
Not a lot of debris but the oil color is a concern.

-------------------------

When considering your next auto A/C purchase, please consider the site that supports you:
ACkits.com

Contact: ACKits.com
TRB on Thu June 05, 2014 5:55 PM
I would if replacing the compressor. Follow Hecat's Flushing procedure.


-------------------------

When considering your next auto A/C purchase, please consider the site that supports you:
ACkits.com

Contact: ACKits.com