thordehr on Wed June 04, 2014 5:59 PM
Year: 1999
Make: Ford
Model: F-350
Engine Size: 7.3
Country of Origin: United States
I have a SpringLock coupling on a Ford truck that is leaking. A couple of new orings were put in last time it was charged but I think the interior surface on the female portion is scored not allowing the orings to seal.

[URL=http://s267.photobucket.com/user/thordehr/media/0900c152802796ae_zps7ad485a3.jpg.html]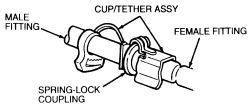 [/URL]

Unfortunately, the female portion of the connector is on the evaporator side, not the removable line side and would require replacing the evap unless I can do something to smooth the scoring. Any ideas?
thordehr on Wed June 04, 2014 6:59 PM
Nevermind! Google to the rescue!

https://www.motorcraftservice.com/pubs/content/~WSXO/~MUS~LEN/20/SXOC0004.HTM
Jag987 on Wed June 04, 2014 9:13 PM
Link to above reference.

Good info! I was thinking maybe a wheel cylinder hone, but it just seemed too extreme. I will have to store this one in my thinker.

-------------------------
I bought a can of 134a at w**-mart that had a stop leak, oil, and dye in it. It also had a hose and a gauge, so now I'm an AC pro!
Cussboy on Wed June 04, 2014 11:26 PM
Ford had a better idea !!! But spring lock couplings were NOT one of those better ideas !!!
Olds442 on Thu June 05, 2014 9:46 PM
Maybe put some Nylog sealer on the o-rings and re-install. Maybe that will seal it up.
Dougflas on Fri June 06, 2014 7:15 AM
I have cleaned them with sucess. Also, there were kits that clamped them so they would not move. Those worked also but were for fittings before thay used 2 o-rings.
webbch on Fri June 06, 2014 7:30 PM
If you can correct the issue that caused the sealing surface to get scored in the first place, you can apply some JB weld, and lightly sand it flush to restore the sealing surface. It works surprisingly well in that application. But just a dab to fill in the scoring.

Oh, you mentions it's on the female surface. You can still do it, but you'll have to come up with a means to both spread and sand the interior surface after the JB weld dries. It's obviously a lot easier on the male surface. Plus you'll need to flush the evap afterwards to remove the sanding dust. Not a lot fun - balance against the effort to replace the evap I suppose.

Edited: Sat June 07, 2014 at 1:05 PM by webbch

Copyright © 2016 Arizona Mobile Air Inc.