JHZR2 on Sat August 03, 2013 10:22 PM
Year: 1998
Make: Chevrolet
Model: S-10 ZR2
Engine Size: 4.3
Refrigerant Type: R-134a
Pressure Low: 30
Pressure High: 150

My 98 Chevy truck has a leaky pressure switch on the accumulator.

From last year, this was the pic that gave it away.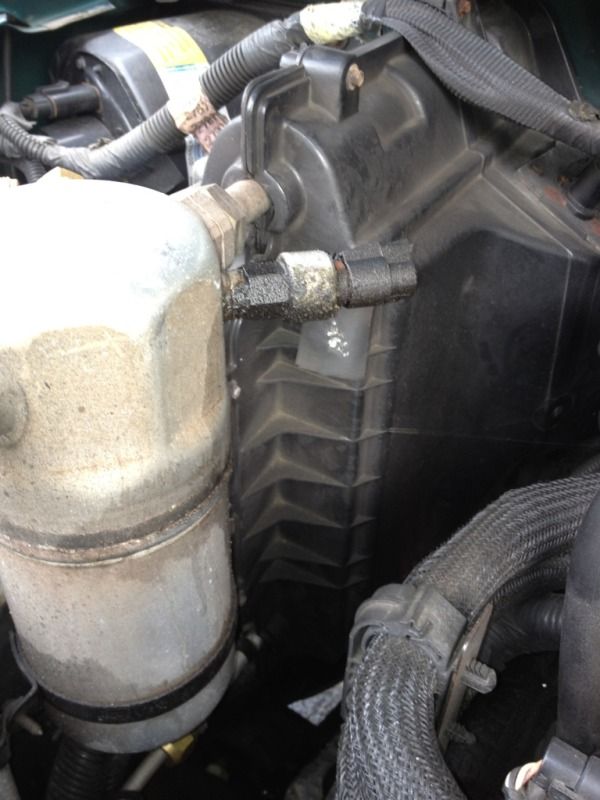 Hardly use the truck n the last many months, so didnt do anything with it. Finally got a replacement part from AZ and put it in with a new o-ring. It hisses. Seems to hiss least when very lose, but as I tighten it, the sound varies. I think the o ring is right. Put the old o ring and sensor back on, same deal. What gives? Lubed the o ring with Vaseline as I didn't have nylog, but I can't imaging that would cause this.

Any ideas/suggestions? Can anyone verify the oring size? I found on a four seasons catalog that it might be 24167, which cross references to an ACKits.com part number of 40-02654-N, but I can't find that part. My basis was here:

http://www.idmsvcs.com/2vmod/actuneup/condenserorings/fourseasonsoring.pdf

And the cross reference from here:

http://www.ackits.com/4S-ackits-cross.pdf

Is there a better brand for the switch? I'm going to buy nylog blue from here and use it on the I-ring, can I get the right size ring from here as well?

Thanks!!


Edited: Sat August 03, 2013 at 10:40 PM by JHZR2

GM Tech on Sun August 04, 2013 8:18 AM
Plastic based pressures switches are to be torqued as snug only- anything more will break the based (crack it) and they leak - yours is cracked- look at it with a good set of glasses- never over-torque these- buy a new switch and be happy.

-------------------------
The number one A/C diagnostic tool there is- is to know how much refrigerant is in the system- this can only be done by recovering and weighing the refrigerant!!
Just a thought.... 65% of A/C failures in my 3200 car diagnostic database (GM vehicles) are due to loss of refrigerant due to a leak......
JHZR2 on Sun August 04, 2013 12:55 PM
I never torqued the new one, and the old one was never touched since leaving the factory in 1997.

I got it just tight enough to feel initial resistance, pressing only with one finger on a stubby wrench so that I couldn't torque it, because the plastic scared me. It just never stopped having a very slight hiss, no matter where I snugged it to.

This why I think the generic o-ring I used wasn't quite right.

Shouldn't be any different in practice than putting the high and low side plastic caps on the ports.


Edited: Sun August 04, 2013 at 1:09 PM by JHZR2

mk378 on Sun August 04, 2013 1:34 PM
New switch should have come with a new o-ring. Possibly you got one that someone else cracked and returned to the store. Never use a wrench at all to tighten these. Simply screw on by hand and it's done. The seal is made on the sides of the bore with the o-ring, the threads are just to keep it in place.
JHZR2 on Sun August 04, 2013 9:11 PM
Ok thanks! There definitely was no o-ring on the Autozone part. When I removed the OE one, the o-ring stayed on the male thread that is on the accumulator. The bag I got only had the switch, and the ring sits at the base of the male end, not on the switch itself. When I put what seemed like a reasonable sized replacement, it leaked. Tried the old ring and it leaked. Tried the old part and it leaked. No luck.

Perhaps a trip to the dealer is in order. I assume that while the AZ part didn't come with the ring, perhaps switches from other sources do??

Thanks!
Copyright © 2016 Arizona Mobile Air Inc.