Cautrell05 on Thu July 05, 2012 3:53 PM
Year: 1968
Make: Chevy
Model: Impala
Engine Size: 350
Refrigerant Type: 134
Ambient Temp: 100
Pressure Low: 50
Pressure High: 250
Country of Origin: United States
Trying to get the ac working in this car. As stated its a 68, factory air. Ramjet 350, new GM R4 compressor, new dryer, condensor, lines, new expansion valve, still has the POA valve. The car was put together 2 years ago so I dont remember the total oil and 134 charge. It was back last fall with the system empty. It had dye in it and nothing showed up. Recharged and checked later. Got it back last week, They live 280 miles away, empty again. Found the compressor leaking from the case seam. Replaced with GM compressor. I thought Charge was around 3 1/2 pounds last time. Went with that, Very poor cooling. Sitting still on fresh air its around 65-70 degrees. Recirc it sits around 55. Driving on fresh its around 60, recirc after 15 miles will barley hit 50. Thought maybe it was over charged. So I emptyed it and started with a pound. 30/170. 65 out of the vents. added another 1/2 pound 50-250, 60. From 1 1/2 - 3 1/2 pounds pressure stays about the same and cooling does not improve. With 1 1/2 it will cool a little quicker at highway speed but not much better, when stopped it climbs back to around 60. How does the POA valve affect this system? I thought about a different expansion valve But I dont know how the POA figures in. Thanks.

Nick
Dougflas on Thu July 05, 2012 8:04 PM
the poa regulates the evap to prevent freeze up. Was the POA reset for r134? To test the poa use 1200 to 1500 rpm, disconnect the blower motor. The low side with r134 should be approx 26lbs. (with r12 30psi) If I remember, 3 1/2 lbs was the r12 freon amount. I'd start with 42 oz. Also, mist your condenser with a water hose. If the high side drops radically, you are not getting enough airflow across the condenser. You should be using the A6 compressor. How much oil is in this system???? Do not use the sight glass for charging.
mk378 on Thu July 05, 2012 10:50 PM
This sounds like the compressor is not pumping very well. Is it a new unit?
Cautrell05 on Fri July 06, 2012 12:56 AM
Thanks for the replies. The compressor is a new two day old GM compressor. The a6 just didn't work in with the rest of the build. I think there may be some airflow issues but the fact that it takes 5 miles at highway speed to get to 55 and after 10 its down to 40 makes me think there is something else. Right now its cooling best with 24 ounces. Any higher and the temp goes up. I think the oil charge was 8 ounces but I'm not sure. My gut feeling by looking at the pressures was the expansion valve was open too far but like I said the poa valve had me wondering. What is there to adjust on the valve or should I just go with one of the eliminator kits? I would feel better that way because at least then I would have a low side cut out switch.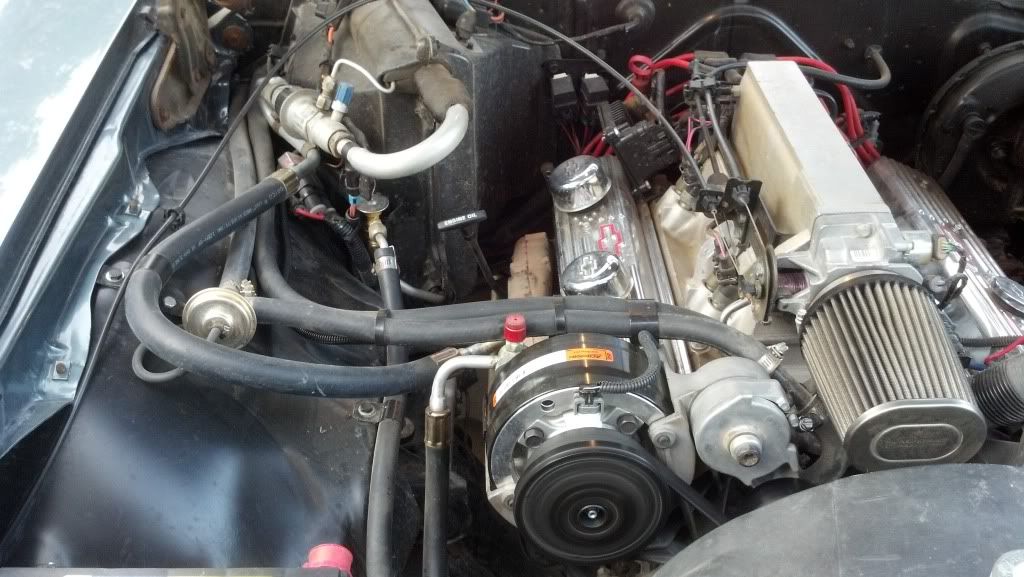 Dougflas on Fri July 06, 2012 7:55 AM
go to the tips and proceedures section. There is info on the POA and adjusting it.
Copyright © 2016 Arizona Mobile Air Inc.