aquartlow on Wed May 30, 2012 4:51 PM
Year: 1979
Make: Ford
Model: Ranchero
Engine Size: 460
Refrigerant Type: R-12
Ambient Temp: 90
Country of Origin: United States
Hi everyone, My name is Todd and this is my first post hopefully a member or two/three can help me. I am in the process of replacing the entire A/C system on my 1979 Ford Ranchero, many pieces of this system were retro-fitted to the Ranchero from a donor '76 Thunderbird back in 1989 when the donor T-bird's 460/C6 were installed into the Ranchero. The car/truck has been completely restored from front to back or at least in it's final stages of the restoration. I have disassembled the evaporator case and had the evaporator checked for leaks/problems it checked out to be Good. New parts installed: expansion valve, A6 compressor with complete new clutch assembly, new condenser, new receiver/drier new liquid line, new high pressure and new low pressure hoses(one from compressor to condenser and one from STV valve to compressor), STV(Suction Throttle Valve) was checked and was found to be Good. All new O-rings will be installed once I install the new condenser and have the clutch installed on the compressor. This system was working excellent when the car was routinely driven last in 1992 then it was in an accident and the vehicle has been in a slow restoration ever since. I need to know the correct procedure for installing the correct amount of compressor oil into the A6 compressor, I have heard a few different scenarios and just want the correct way. I have 525 mineral and virgin R-12 for refrigerant, I will vacuum the system down once it is assembled. I have heard to put 6 oz. of 525 oil into the compressor, 1-2 oz each in the condenser and the evaporator prior to closing the system up and evacuating the system with an A/C vacuum. The original A6 was removed and it had about 4-5 oz of oil but I knew I couldn't rely on it's content for the new compressor due to age and other factors. The new remanned A6 was sent with 10.5 oz of 525 oil already installed(I haven't opened the oil plug yet to verify though). I just need someone who has dealt with this type of system be able to give me the correct advice or direction in which to go. Sorry for such a long post just wanted to give as much info as possible. Thank you, Todd
bohica2xo on Fri June 01, 2012 1:30 AM
Those were good solid systems.

The A6 has a sump & an oil pump in it. Just fill the sump with the correct oil charge & let the system work as intended.

I would drain the compressor, and flush it with the oil I intended to use in the system. New / Reman compressors are very likely to have PAG oil in them. It has been 20 years since R12 was OEM, and many suppliers just assume the system will be converted. Drain the compressor. Put 5 or 6 ounces of the oil you plan to use in it, and turn the shaft by hand on the bench 10 to 20 revolutions. The drain the flush oil & refill wit the correct charge of oil for your vehicle.

Easy system to work with, R12 & a sightglass.

B.

-------------------------
"Among the many misdeeds of the British rule in India, history will look upon the act of depriving a whole nation of arms, as the blackest."
~ Mahatma Gandhi, Gandhi, An Autobiography, M. K. Gandhi, page 446.
aquartlow on Fri June 01, 2012 8:36 AM
Thank you, Bohica2xo, for the reply.
The A6 was sent with 525 oil, which from what I have read is R-12 compatable. I checked the oil level of the compressor and it is full and from what the instructions that were sent with the compressor the oil in the compressor is pressurized from the rebuilder. I just cracked open the oil plug and the oil started seeping out with a bit of force, so the compressor seals must be doing their job for I purchased this A6 about 3 years ago, been sitting inside my house ever since. I will follow your recommendation and change the oil just to be safe and add 5-6 oz back to the compressor, but hopefully I don't have to completely clean out the compressor's oil that was sent with the unit since it says that it is compatible with R-12, would this be correct or is there a better procedure? What product would be used to correctly flush an R-12 system? Since me posting this topic, I have found my Ford shop manuals and it has given a breakdown on how much oil needs to be added for each component that was replaced in the system. Believe it or not this R-12 system doesn't or didn't come with a sightglass, all my other R-12 and for that matter 134A systems had one. My '75-'76 shop manuals show the complete system from a Thunderbird and the sightglass wasn't part of the system, having one would make it easier to see the condition/amount of charge. I will be using a scale and gauges when I recharge the system. So I will add 5-6 oz to the compressor, 2 oz to the condenser/dryer assembly and 3 oz to the evaporator. Close the system up with new O-rings and vacuum the system down to 30 in hg and check for leaks, once it passes this test I'll add the recommended amount of freon. Does this sound like the correct procedure for my application? One more ?, does the oil in the A6's sump become part of the freon charge oil or does it stay separate, like a York 2 cylinder compressor or is my thinking wrong? Thank you once again for the recommendations, they are much appreciated. Todd
Dougflas on Fri June 01, 2012 3:58 PM
Some Fords had a sight glass as part of the liquid line. Also, I 'd put the full amount of oil into the compressor. This compressor can hold a full oil charge and the compressor is the only part that needs oil.
aquartlow on Fri June 01, 2012 4:34 PM
Thank you for the reply, Dougflas. So I should remove the shipping oil from the A6's oil sump (just to be safe as well as check for any metal contamination even though it is a remanned compressor) then re-fill with the appropriate amount of 525 mineral oil, which is said to be 10.5 oz for the entire system. I didn't know if distributing the oil in different parts of the system would be a good idea or not. I will probably have a few more questions once my condenser shows up and I get my system sealed up. Thank you for the help and advice. Todd
Dougflas on Fri June 01, 2012 7:54 PM
with this compressor, put the oil in the compressor.
aquartlow on Fri June 01, 2012 8:12 PM
10-4. I greatly appreciate the information and the directions. I will give an update, hopefully with pics, once I get the system re-installed. Thank you, Todd
bohica2xo on Sat June 02, 2012 3:13 AM
Ford moved the sightglass around a little. Some 70's ford cars have one in the flexible liquid line - right in the middle of the line. Some LTD's were actually built in to the side of the TXV.

Of course right on top of the dryer is a common spot too. Many replacement dryers have a sightglass. People claim there is no window - what they do not realize is the factory put a round sticker over it before painting the assembly, and left it there.

Like Douglas says, the whole oil charge goes in the compressor sump. If you are sure the compressor is charged with 525 mineral oil great. But "R12 compatible" can also mean Ester oil.

B.

-------------------------
"Among the many misdeeds of the British rule in India, history will look upon the act of depriving a whole nation of arms, as the blackest."
~ Mahatma Gandhi, Gandhi, An Autobiography, M. K. Gandhi, page 446.
aquartlow on Sat June 02, 2012 9:59 PM
Thank you once again for your recommendations bohica2xo. I will end up dumping the shipping oil and fill with new 525 oil just to be safe. I do appreciate the advice. Todd
aquartlow on Sat June 09, 2012 8:15 PM
I'm still waiting for my condenser to arrive, but I do have another question pertaining to the Suction throttle valve I have. The STV has three ports on it as seen in this pic. 1) Regulated evaporator pressure test connector(charging valve). 2) Expansion valve equalizer line connection(to compressor suction pressure). 3) Liquid bleed line connector(from regulate evaporator pressure). The valve in the #3 port is supposed to be a low psi valve as the image states. The valve is called a pressure differential valve and it's supposed to start to open @ 10psi and be fully open @ 20psi. Does anyone know where to find this replacement valve?? The original valve's seal was messed up and I need to replace it...or other suggestions. I purchased a 4 seasons #59343 valve(it states that is is for an STV) and it is as stiff as a regular valve like in the charging port. I just don't want to have any problems when I attempt to charge the system. I have just installed the new clutch and replaced the compressors oil before mounting the compressor to the engine. Thank you in advance, any help is much appreciated. Thank you, Todd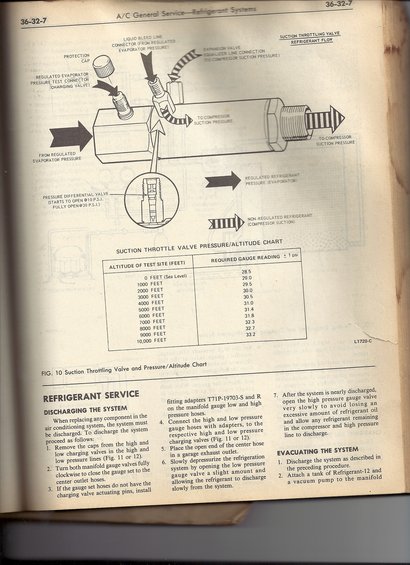 bohica2xo on Sun June 10, 2012 4:31 PM
That valve is supposed to be a low cracking pressure valve. You can get it from the site sponsor AMA. It will not be on the web site, you will need to call Tim on monday.

That lines comes off of the bottom of the evaporator. During throttled operation when the line from the STV to the compressor is in vacuum, it returns a small amount of refrigerant and any collected oil back to the suction side of the compressor.

Good thing you read the book, I have seen people put the wrong valve in - or leave it out.

B.

-------------------------
"Among the many misdeeds of the British rule in India, history will look upon the act of depriving a whole nation of arms, as the blackest."
~ Mahatma Gandhi, Gandhi, An Autobiography, M. K. Gandhi, page 446.
aquartlow on Sun June 10, 2012 6:19 PM
Thank you, Bohica2xo, for the reply. I just want to do it once and do it correctly. I may have found out that the folks that said my STV was OK may have not thoroughly checked it, now I'm having my doubts. I may just replace it if I can find one, would a POA valve for a GM apllication work if the fittings are the same size and/or location?? Here are a couple of pics of what I'm working with. Thanks again for all your help and guidance.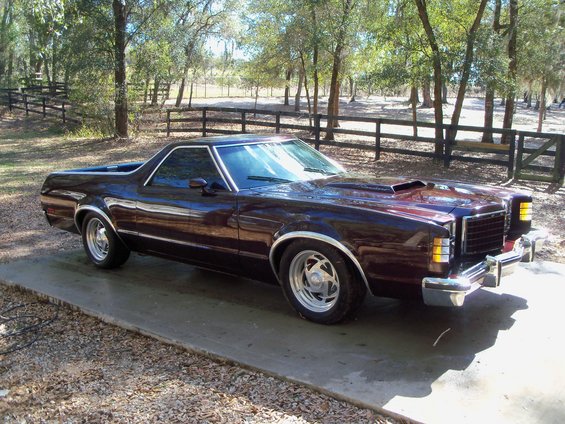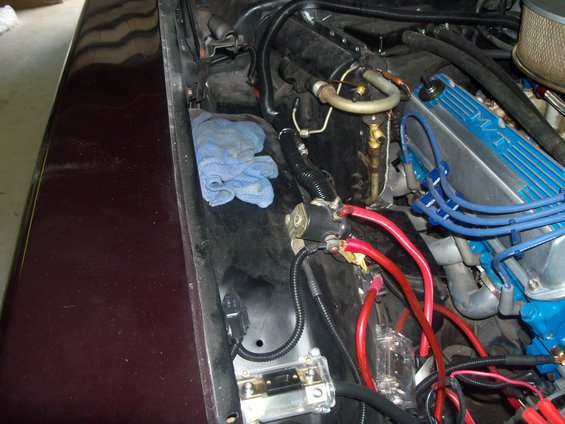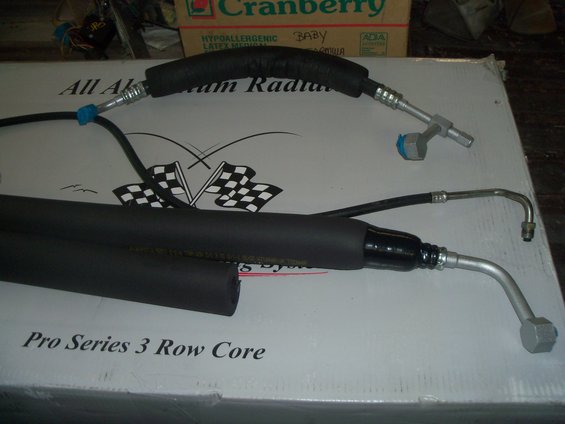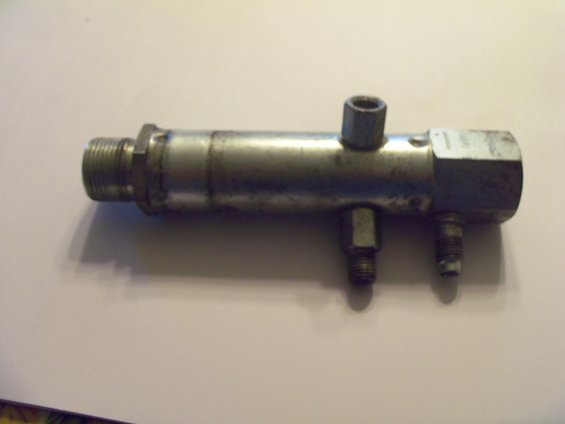 I'm not done with it yet, still have some wiring to finish as well as the A/C, but it's getting there.
aquartlow on Thu June 14, 2012 1:29 PM
Update.
I received my brand new aftermarket condenser and it was made to the wrong dimension(core supposed to 28.25" X 18")...ugh. so I'm waiting for a replacement. The supplier was good about it and said that it wasn't made to the correct measurements(really?) and get another one out to me. Hopefully they send the replacement out quickly, but it has put me behind. While I am in waiting for the condenser I checked my STV/POA valve (pictured above)using the procedure that Dougflas, has posted in the tips section. Following his procedures, it seems to test good with 31-32 psi on low side gauge and the high side valve fully open with about 75-80 psi in the air compressor line/high side gauge. It definitely made a "Pop" sound and then stayed at 31-32 psi. Now since the valve checked out good I will call AMA about the liquid bleed valve/low cracking valve that I need to replace in this STV/POA then I'll be ready for the next stage, vacuum check(after condenser's installation). Is there anything else that I am missing or jumping over?? Todd
Dougflas on Thu June 14, 2012 1:49 PM
I may have a NEW POA; as in brandy new. I have to check. Will get back to you. Do you have the OEM part number handy? If I haveone, as long as Tim Ok's it, the price will be right.
aquartlow on Thu June 14, 2012 2:24 PM
Dougflas,
The original Ford part# D6SH-19D580-AA, I can't seem to find ANY info on this valve or its cross reference. I will say that I have seen acouple of different part numbers that I could use in it's place though. Both ends, inlet and outlet, of my STV are #12. I purchased an NOS STV that looked right but the outlet end was a #10 D9AZ-19D580-A, oh well.


Thank you, Dougflas, for the offer.
Dougflas on Thu June 14, 2012 4:26 PM
Got ya covered. Will post a picture of it this evening. Here it is

Edited: Thu June 14, 2012 at 7:01 PM by Dougflas

aquartlow on Fri June 15, 2012 9:37 PM
Dougflas,
Sorry I didn't get back to you sooner on the valve, been a little busy. The valve's port locations are a bit different from the valve I have but I don't think that will be a problem. If I may, I need to ask you a few questions. What is the overall length of the valve? Does this valve still have the correct liquid bleed valve installed? Are both the inlet and outlet ports a size #12? If you'd like, contact me at BB79RANCH@NETZERO.COM. Thanks again for all your help, it's much appreciated. Todd
Dougflas on Sat June 16, 2012 4:00 PM
overall length is 6 3/4 inches. It has both schraders (one is special) both fitting sizes are #12 The port locations are different; probably won't make it.

Edited: Sat June 16, 2012 at 4:06 PM by Dougflas

aquartlow on Sat June 16, 2012 5:22 PM
Dougflas,
The length is spot on @ 6 3/4", the #12 ends are correct and having the special bleed valve core is a definite plus. The only real difference is the location of the charging valve. Your valve would have the charging valve core at the 12 o'clock position and mine was at 6 o'clock, this shouldn't make a big difference(should it??). The new position would allow for easier access for vacuuming of system. The expansion and bleed ports are actually in a better layout than my original, the way they are "clocked" on the valve itself, the bleed valve would be positioned at the 6 o'clock position and the expansion port will be at the 4 or 5 o'clck position (looking at the valve, once mounted, from the inlet end). As long as all the tubes/lines are capable of be installed without an kinks or "stretching" of the lines, this valve should work with my expansion valve line, evaporator bleed tube. Let me know if this sounds correct or I have errors in my thinking. Thank you, Todd
Dougflas on Sat June 16, 2012 5:27 PM
tomorrow, I will bench test it. It is new but has been in the box for 30 years.
aquartlow on Sat June 16, 2012 5:41 PM
Dougflas,
10-4, thank you for testing it. I had purchased an NOS valve just a week or so ago off of Ebay, found the valve was bad....MY LUCK. The gauge just kept climbing instead of holding at 30-32 psi like my original. The outlet end was also the wrong size(#10)...MY LUCK #2. Let me know. Thank you, Todd
Dougflas on Sun June 17, 2012 12:56 PM
I'm not too thrilled with its operation. It was stuck closed for about 30-45 seconds and then opened up. It regulates kinda mushy. My integrity tells me not to sell this guy to anyone as I can't trust it.

awlful sorry but don't need to take your hard earned dollars.
aquartlow on Sun June 17, 2012 4:30 PM
Dougflas,
Your honesty is greatly appreciated by this forum member. You have given me excellent advice in dealing with what I have to work with and if that wasn't enough you wouldn't allow the risk of me having a problem when you yourself had reservations of this valve's operation, your integrity speaks LOUDLY for itself. I guess this is MY LUCK #3. Once again Thank you, Todd Tedder

If this valve is destined for the trash, would you be willing to remove and sell the liquid bleed valve??

Speaking of this valve's "mushy" operation, when I tested my original valve it only made a"pop" sound once but kept it's psi reading @ 31-32 with 75psi @ the high side when I cycled the inlet pressure on and off. I removed the pressure fittings/gauges to test the NOS valve I purchased(which I found to be bad), I then reattached the hose fittings/gauges and re-tested the original just to be certain, but this time it didn't make a "pop" sound but it did read/hold the same 31-31psi on the low pressure side with 75psi on the high side. I guess what I'm asking what do you mean by "mushy" operation, and does my valve seem to be a good operating valve?? Todd
Dougflas on Sun June 17, 2012 9:00 PM
your valve appears to work as it should. Do you need the special schrader?email me. Put in subject " POA"email is DKTV at aol dot com


If ackits doesn't have it, we can work it out.



Edited: Sun June 17, 2012 at 9:06 PM by Dougflas

aquartlow on Sun June 17, 2012 9:43 PM
Dougflas,
I sent email and yes the "special" schrader is what I will need. Thank you, Todd
Copyright © 2016 Arizona Mobile Air Inc.