DCIV on Fri April 29, 2011 6:32 PM
Country of Origin: United States
I have a twin turbo car that the intercooler, radiator and exhaust took up where the stock a/c compressor goes. I have some room, 4 inch pulley and can go 8 inches back. I want to get a compressor that is powerful enough as I am going to rear mount my condenser. I need every fitting from the compressor, to a drier, to hook to the condenser, and to my stock evaporator. If anyone is willing to help me I will gladly pay them some.


Thankyou.
DCIV on Sat April 30, 2011 4:12 PM
I was thinking about this condenser, http://www.nostalgicairparts.com/air-conditioning/14-x-18-remote-condenser-w-fan-and-aluminum-shroud-33.php
This is also the compressor I was thinking about using, its next to a stock size one.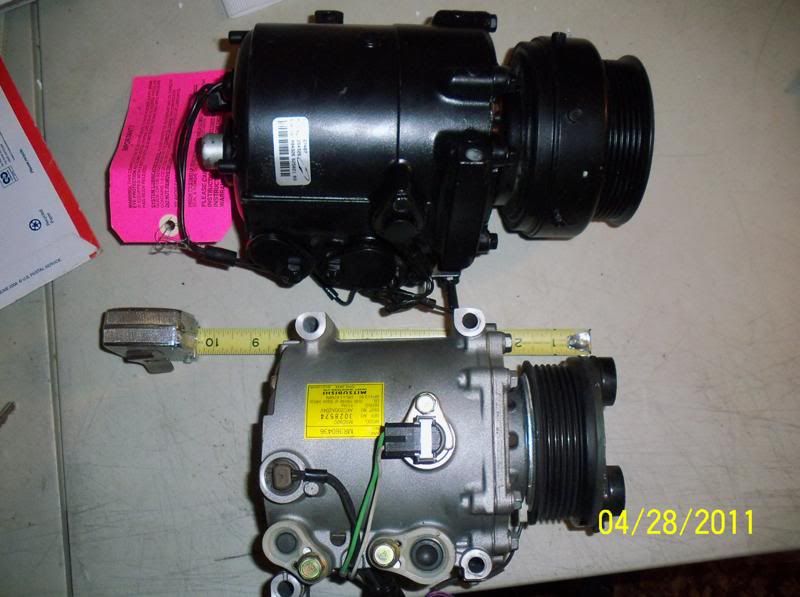 Now I have no clue what all connectors I need but would love help with all of that please. I am not new to modification, just new to custom a/c.
DCIV on Sun May 01, 2011 9:21 AM
I like what I am reading on here about these parallel flow condensers. I will prob end up with one of those. So does anyone know what the fittings coming off the condenser are? How I pick out that and the size hose I need? If the drier needs to be so far away from the condenser or evaporator? Are all connectors to evaporators the same? I plan to call the contact number for this site monday, hopefully they can answer some questions if no one here can.
robs on Mon May 02, 2011 4:07 PM
Per your conversation with Tim earlier, these are the pics for the compressor we have available that might work. It is $245.00.


DCIV on Mon May 02, 2011 4:31 PM
Sweet, that will work. Do you know what the pulley size is? Or if those are changeable with different sizes?
robs on Mon May 02, 2011 6:00 PM
Click HERE to go to that compressor on our site. Will show more information.
DCIV on Tue May 03, 2011 11:01 AM
Ok, I got around to measuring room for the condenser. I need something thats 8 x 30 I would love if it had more then 1 row to help with everything. Anyone know anything like that?


Copyright © 2016 Arizona Mobile Air Inc.