edp on Fri September 24, 2010 9:41 PM
Hi all, I'm new to the forum & am looking for some info on where to & if I can buy a condensor in the size I want. If not then the next best thing, seeing if one can be made (for a reasonable cost hopefully). My project is a 1973 Datsun 1200 that originally didn't come w/AC except as a dealer option underdash unit. I think I can fit a evap unit into the existing space behind the glove box & worst case use an underdash evap unit but finding a small condenser like 8"- 9" x 16"- 18" seems pretty hard. Does anyone know where to buy one is in that size or if there even available?

Most search's are vehicle specific not search by size so its kind of hard tracking one down. I did find a source on a 10" x 18" but ideally smaller would work better. I dont know that much about AC but figured someone here might point me in the right direction, I've managed to acquire the proper compressor bracket for my motor & a later yr. NOS compressor off another datsun model that I can fit to the bracket. Its the condenser sizing I need to work out.

Thanks for the help!

ONe last question - on my NOS compressor I started to remove the cap on the compressor & it started to hiss like its pressurized with some sort of gas, is this to keep the unit from getting condensation & rusting internally & is there some reason I shouldnt take them off until I'm ready to use it?

thanks!

Evan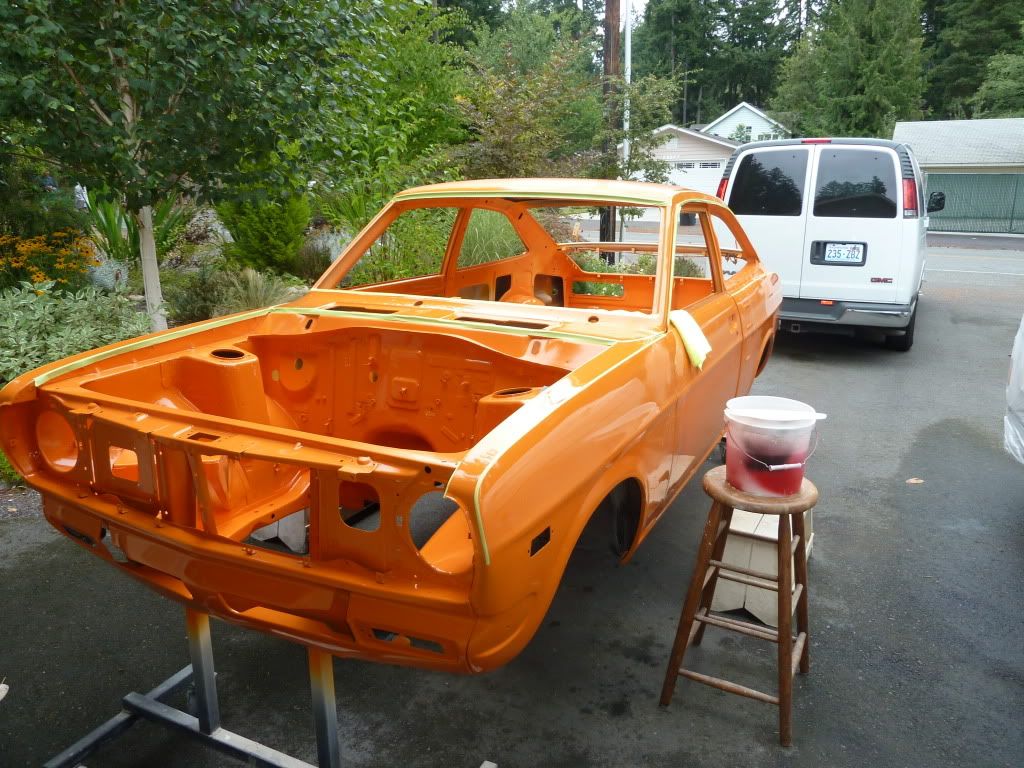 ">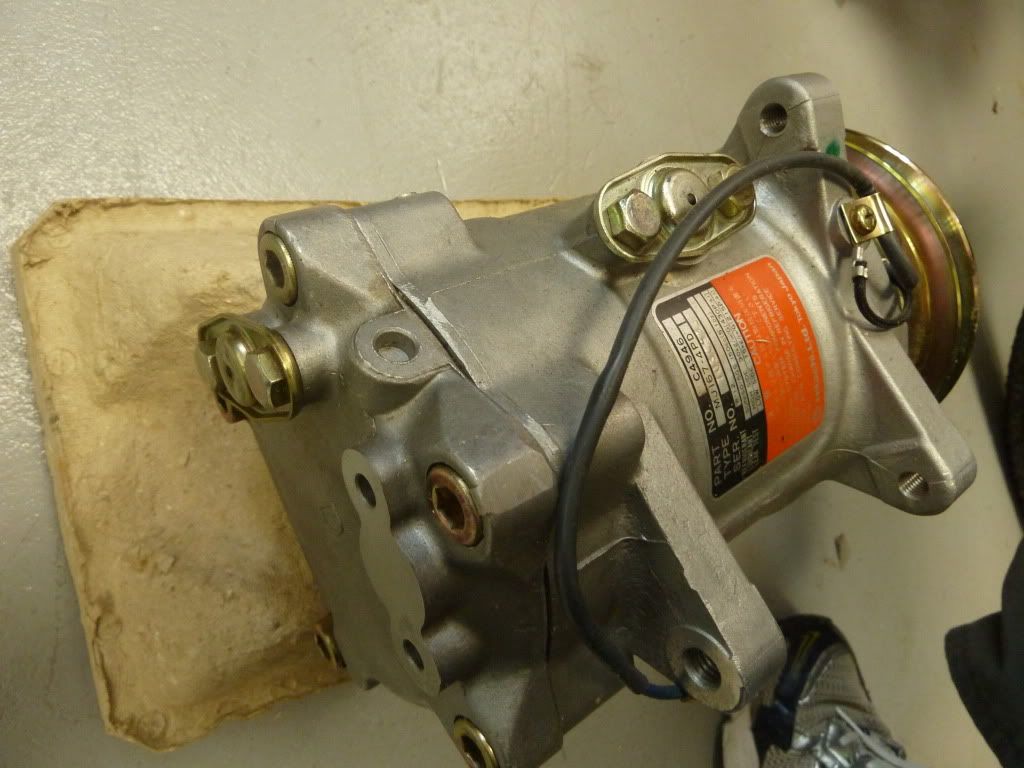 ">

Edited: Fri September 24, 2010 at 9:51 PM by edp

fasto on Fri September 24, 2010 11:00 PM
Is that an Hitachi 123 compressor? it looks similar to the compressor on my 1978 280Z. It is probably pressurized with either nitrogen or R12, as you suspected to prevent internal corrosion.

Re: the condenser, you might want to give AC kits a call, they can probably get you something that will fit. They have a large selection of "universal" condensers on their web site.

As an aside, the 280Z's evaporator (factory air) is located just behind the center dashboard air vents. Seems to me that if you can finagle that it would be the nicest installation.
edp on Sat September 25, 2010 12:46 AM
Yes its a Hitachi, not sure if its a 123 as you mentioned. I did in fact yesterday go to the wrecking yard & pull the hoses & fittings off a 1980 280Z compressor, this units part # is for a 82 310. From my poking about it looks like a lot of the models shared a similar compressor though, 310, 810 & 280Z.

I did check w/AC Kits but nothing that small. As you can see from the front end pic of the car I've got very little room to fit the condenser in front of the Rad core support, I'd like to be able to slip it in from the engine compartment through the rad. hole in the core support, thats why I need something so small. 8" x 15" would be ideal.

So if the compressor hissed after all these years then its held its seal & should be good!

I assume its OK to run R134A thru a fresh system & the older compressor wont have any problems w/it will it? I planned on buying a new dryer, condenser will be new & I've got a new evap unit from a 81 Datsun 210 as well. Any suggestions for putting all this together & making it all work would be appreciated.

Thanks.
bohica2xo on Sat September 25, 2010 12:03 PM

It has been a very long time since I saw one of those cars on the road. I seem to recall a wide condensor that went across behind the grille.

THIS Condensor is close to the ones I remember, but is a PF instead of a tube & fin. It went across the two square openings on either side of the radiator cutout.

Tex may remember the B210 kits better than I do. I was more interested in the girl driving the (then new) B210 than the A/C...

B.

-------------------------
"Among the many misdeeds of the British rule in India, history will look upon the act of depriving a whole nation of arms, as the blackest."
~ Mahatma Gandhi, Gandhi, An Autobiography, M. K. Gandhi, page 446.

Edited: Sat September 25, 2010 at 12:04 PM by bohica2xo

fasto on Sat September 25, 2010 1:36 PM
My 280Z is presently using R134a with no troubles, in fact the AC is nothing short of fantastic - except you can only get conditioned air from the center vents on the dashboard, which is the original design.
You will want to drain the oil from the compressor as it's mineral oil, which is incompatible with R134a. Then you'll want to pour in some of your new oil, either ester or PAG and turn the compressor over by hand a few times. Drain the oil, and repeat a few times to get the mineral oil out. Do this just before installing the compressor. If your compressor has a sump you'll want to include that in your oil draining procedure, too.
If you need a small condenser you might look at the seconday condenser used on dual air Chrysler minivans in the mid 90's. This was put in series after the main condenser, and I recall it was pretty small. With some creative engineering you could even mount it behind the two slots under the front bumper.

edp on Sat September 25, 2010 2:20 PM
thanks for the info guys, I did find a truck condenser online in a catalog for a commercial truck,its 6.5 x 231/2 x 2, still may be too big but worth checking into.

Keep the help coming please, any ideas to make this work would be great!


Yeah bohica2xo, there are very few of these running around, I only know of a about 3 in the Seattle area. I'm almost done w/paint so hopefully it'll be able to hit the road reasonably soon.
ice-n-tropics on Wed September 29, 2010 1:51 PM
Pal & Evan
I built some Datsun A/Cs at MARK IV. The Datsuns 1200, 510 & 610 worked really good with a suck through evaporator in the glove box area and using a duct to the console mounted heater blower and air distribution system.
After I built a A/C for the Datsun 510 my bosses (all 3) assigned another guy, Jerry, to work on the Datsun 610.
My top boss put out a praise memo to the whole company praising Jerry for the best A/C ever in the 610, and in record time.
Jerry wrote across the memo, posted on the bullitin board, that he just mounted a production 510 evaporator into the 610 without changes and that the acolades should go to me instead.
My new boss took down his silly memo and never said another word about it. I quit soon afterward, after working for MARK IV for 13 years from age 18.
hotrodac

-------------------------
Isentropic Efficiency=Ratio of Theoretical Compression Energy/Actual Energy.
AMAZON.com: How To Air Condition Your Hot Rod
edp on Thu September 30, 2010 1:02 AM
ice-n-tropics, no good when others get credit for ones work but what can you do.

Do you by chance remember what evap unit you would of put behind the glovebox in a 1200? I've been looking at a bunch of the in dash & underdash units but still not sure what to use yet. I'm trying to get accurate spec's on the condenser recommended by bohica2xo, the guy at AC Kits seems to be having some problems with accurate size numbers, hopefully soon.

I thought about using some system that piped the AC thru a console setup, I've got a nice center console out of a Mazda 323 that fits really well & was thinking about trying to fit a vent into that. Any help or advise on fitting into my 1200 is appreciated.

Thanks!
ice-n-tropics on Thu September 30, 2010 1:31 PM
edp
YoYo (your on your own)
In the early 1990s there were universal suck thru evaps for Japaneese cars. sold by Sanden. All custom fit evap tooling is long gone.
I'd make a cardboard and styrofoam shape that fits your car and make the rounds of junk yards.
hotrodac

-------------------------
Isentropic Efficiency=Ratio of Theoretical Compression Energy/Actual Energy.
AMAZON.com: How To Air Condition Your Hot Rod
bohica2xo on Thu September 30, 2010 1:59 PM
Wow. So obscure even Tex says you are on your own.

All I remember about the aftermarket A/C of that generation was the DPD stuff (shudder) and the ARA stuff out of TX - both are long gone now.

B.

-------------------------
"Among the many misdeeds of the British rule in India, history will look upon the act of depriving a whole nation of arms, as the blackest."
~ Mahatma Gandhi, Gandhi, An Autobiography, M. K. Gandhi, page 446.
edp on Fri October 01, 2010 12:01 AM
well I'm not too surprised, everything on this car has been a challenge somewhat. There's no body panels available in the US so I had to fix all my originals, make my floor pans,yada yada, the list goes on - all part of the fun!

Is there such a thing as too small of a condenser ? I found a 15" x 5" x .75" one for a Chrysler Town & Country van - would that be too small? Itsa a parallel flow from American condenser, its available & cheap to boot!

http://www.americancondenser.com/info/P40225P-CHRYSLER-TOWN_&_COUNTRY_VAN.html

what do you think?
Copyright © 2016 Arizona Mobile Air Inc.