jninyo on Thu August 05, 2010 10:13 PM
Year: 2002
Make: chrysler
Model: 300m
Country of Origin: United States
Hi everyone,
last week I took my car to the AC repair shop and after using all the electronic stuff that I have no idea of, they told me that there is a leak in the evaporator core and it needs to be changed. The evap core itself is $100 but they estimated the repair bill to be $900.
They told me, they have to remove entire front panel to reach the evap core and it takes 6 hrs to do it.
My first question is are they right? is there a way to reach to the evap core without removing the entire front panel?

If it needs to be removed, then I have one more question.
I definitely am not going to pay $900 for repair bill. So does anyone know where I can find step by step instructions on how to remove the front panel for chrysler 2002 300m so that I can replace the evap core myself?

Is this job too hard for a nonexperienced person in fixing cars?
Any other suggestions on what you would do?

thanks a lot...
fasto on Thu August 05, 2010 10:25 PM
Chrysler cars of that era are notorious for evaporator leaks. I replaced them in a 1999 Jeep Cherokee, 2001 Jeep Wrangler, and a 2002 Jeep Wrangler. The Cherokee took about 7 hours to do, and it's probably simpler than a 300M. The $900 is not at all out of line.
If you search for "alldata diy" they sell online access to the factory service manual for any car for about $15. This will have the estimated time of the repair, as well as the procedure. You may need special tools to take the dash out. You will need air conditioning tools and equipment to service the air conditioner. ackits.com has a starter kit of air conditioning tools, so you can investigate that too.
jninyo on Thu August 05, 2010 10:43 PM
Thanks for your quick reply..

Do you think it is worth to spend the $15 for documents and some money for the special tools.?

To cut it short, do you recommend that I should start this kind of big project? (I have done lots of projects at home but never done any repairs for cars).

I am OK for the time that I spend, but the question is the skills....
fonebone on Thu August 05, 2010 11:18 PM
Hi jninyo- This is a major project for someone skilled, and I feel it's really too much for someone of no experience. Thank you for being honest about your lack of automotive skills! Remember what you are dealing with here. You have a highly complex dash with a lot of wires, screws, plugs etc. that if not reassembled perfectly, can lead to a lot of problems down the road. You most likely have air bags to deal with,also. Please, save up the money and let the pros do the job.

fasto on Thu August 05, 2010 11:33 PM
Were I you, I would probably spend the $15 for the alldata subscription, just to see what is involved, then take the car to the mechanic when I saw what's involved!
For reference, here's a pic of the Jeep Cherokee. I've just finished removing the evaporator box, the large open space on the right of the car near the wires with the white and yellow tags is usually filled with this.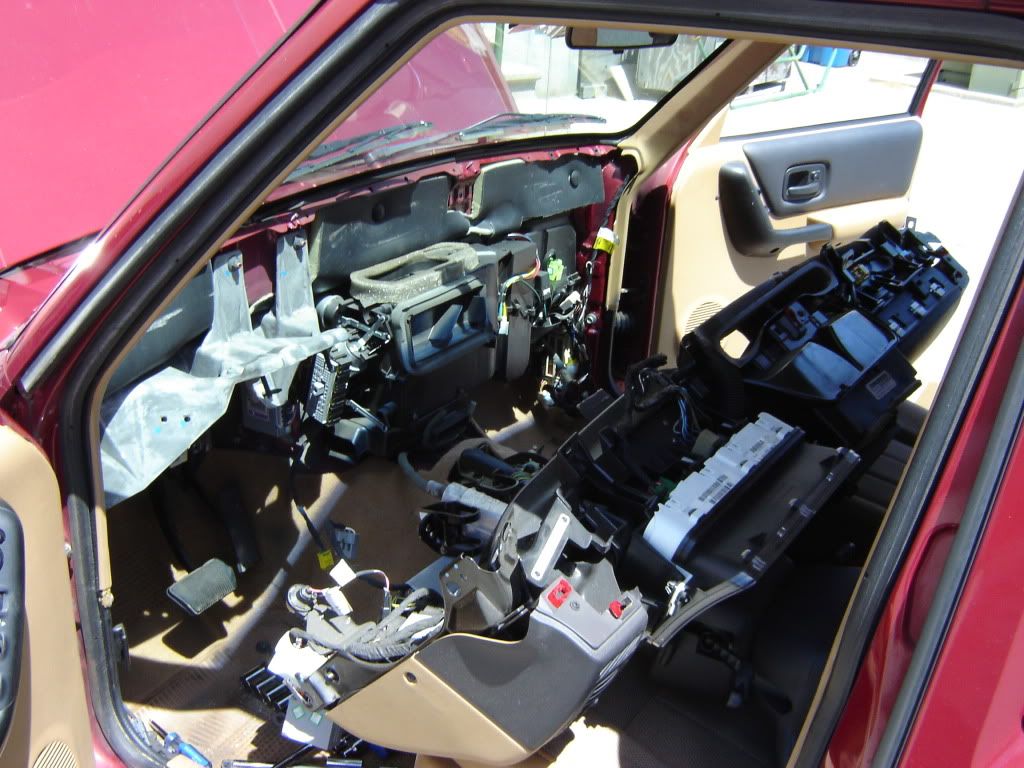 Edited: Thu August 05, 2010 at 11:36 PM by fasto

GM Tech on Fri August 06, 2010 8:26 AM
A 300 M is same as an intrepid--- I just did an intrepid a month ago-- took about 6 hours- but broke off the pipe on the R/D had to pay another $110 for that- you have to bend it out of the way- but it broke......

-------------------------
The number one A/C diagnostic tool there is- is to know how much refrigerant is in the system- this can only be done by recovering and weighing the refrigerant!!
Just a thought.... 65% of A/C failures in my 3200 car diagnostic database (GM vehicles) are due to loss of refrigerant due to a leak......
jninyo on Fri August 06, 2010 8:38 AM
Thanks a lot everyone..
I think clever thing to do is to leave it to the professionals...

Does anybody know if there is a choice of a 3rd party AC that can be bought for the car without fixing the current one?
iceman2555 on Fri August 06, 2010 6:09 PM
Second the opinion...let a pro do it. All it would take would be for one air bag to deploy and the $900.00 would seem like pennies.
Once had a customer bring in a vehicle for a heater core. This particular vehicle required a dash removal to replace the hc. Suggested to simply by pass the darn thing....South FL is not known for many days of requiring heaters...more like measured in hours. However, he insisted that the unit should be replaced. Quoted a price...parts and labor.....stated he would think about the charge....honestly....down deep inside...was hopeful he would take the vehicle elsewhere.
Anyway.....heard nothing from the customer......until about a week later....a wrecked pulls up to the front.....and attached to the carrier was....yep ya guessed it.....but this time....the dash looked as if someone had applied several lbs of C4 to it....parts were on the floor board...in the back seat....and upon inspection....in the trunk.
Customer arrives.....states that he has decided to 'allow' us to repair his vehicle.....pulls out his written estimate and states that this amount is NOW acceptable. He was abit taken back when we refused to accept his vehicle for repair....could not understand why we would now refuse to complete his 'destruction'....opps....repair of his vehicle.
Long story short....we did do the repair....however, we were no longer confined to the 'posted' labor rate....we were now on a 'per hour flat rate'.
Moral.....some repairs although expensive may be worth the outlay of cash. Seems every time I move out of my 'comfort' zone......heck...seems the money spend at Home Depot far exceeded the actual cost of a pro completing the repair.


-------------------------
The strongest reason for the people to retain the right to keep and bear arms is, as a last resort, to protect themselves against tyranny in government.
Thomas Jefferson


Copyright © 2016 Arizona Mobile Air Inc.