Automotive Air Conditioning Information Forum (Archives)
93 mustang - odd compressor inlet fitting
webbch on Sat June 28, 2008 5:49 PM
Year: 1993
Make: Ford
Model: Mustang
Engine Size: 5.0 L
Refrigerant Type: R12

I'm in the process of replacing the accumulator/suction line assembly, and ran into a somewhat odd fitting detail on the compressor inlet. The black fitting is the (presumably) factory hose with what appears to be a fitting detail intended to "key" the pipe to the compressor inlet. The replacement line does not have this fitting detail. Is removing the piece inside the compresssor inlet appropriate to do in this case? Thanks.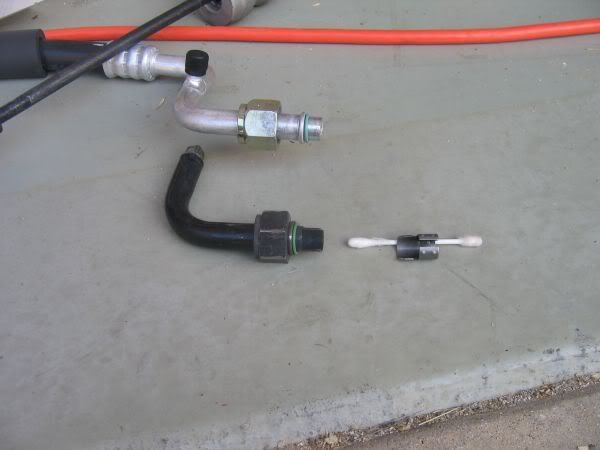 Here's a photo of that fitting installed in the compressor inlet: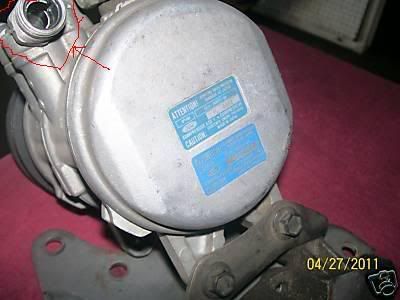 Edited: Sat June 28, 2008 at 5:50 PM by webbch

Chick on Sat June 28, 2008 5:54 PM
I don't believe you'll need the key section with the replacement hose assembly, as long as it fits and the O ring seats properly, the nut then holds it tight..But be sure that the new line does fit snugly inside the compressor section, and the O rings seats ..

-------------------------
Chick
Email: Chick

---------------------------------------------

Freedoms just another word for nothing left to lose
webbch on Sat June 28, 2008 11:59 PM
Thanks for the feedback. I've heard of another person cutting the same profile on their replacement pipe, but I'd prefer to avoid that, given that I can't flush the line from the other end (attached to accumulator).
jdjam on Sun June 29, 2008 2:24 AM
Ditto. Ran into same exact issue with my '89. No need for the keyed end.

Dan
Frostbite on Fri September 21, 2012 6:21 PM
How did you get that insert out of the compressor inlet? It looks like a total pain to remove!
Frostbite on Fri September 21, 2012 6:22 PM
Subscribing
Frostbite on Sat September 22, 2012 12:29 PM
Nevermind. I got it out.
We've updated our forums!
Click here to visit the new forum
Copyright © 2016 Arizona Mobile Air Inc.