knightgang on Sun April 25, 2010 8:51 PM
Year: 2001
Make: Chevy
Model: 1500 HD
Engine Size: 6.0
Refrigerant Type: 134A

Ok, this truck has Auto Climate Control and my Blower has stopped working. Did some trouble shooting today and found that the blower is still good (at least it runs fine with 12VDC straight to it. Also, ohmed the Blower motor resistor and had varying resistance on each of the three prongs through the purple wire. It does not appear that I am getting any voltage to the Resistor.

I have checked the two fuses in the main fuse panel, and the fuse and relay in the under hood distro box. Are there any other relays/Fuses I should be looking for?

I have not pulled the head unit yet to check power input ir output at the Fan switch. That is the next step. But my questions are as follows:

1. Is it likely that the fan speed switch has gone bad? Is this a common issue?

2. Can the switch itself be replaced in the unit, or will the entire head unit have to be replaced if the switch is indeed the problem?

3. Where can this switch, or head unit be found (other than the dealer)?

4. If it is not the switch, what else can it be? And if the switch is not getting power, what else have I missed?

Thanks, starting to get warm in South Georgia and I want to feel my Cold A/C. Compressor and pressurees, etc. are fine, just gotta fix the blower...
GM Tech on Sun April 25, 2010 9:41 PM
Your blower motor is PWM- Pulse Width Modulated-- there are no resistors to separate blower speeds-- the blower motor speed is determined by how fast +12v is "pulsed" to it. It has a built in logic module, Basically you need a Tech II scan tool to diagnose it-- Your test of applying 12v to the blower is good- but you have a control module and a speed processor to decide which is bad.

Your first clue that the diagnosis would be complicated is that there are 3 terminals on the blower motor- how did you decide which ones to feed 12v to?

Hate to tell you this- but you need to find someone with a Tech II who can read the HVAC codes for you- and then do the fault tree diagnosis.

-------------------------
The number one A/C diagnostic tool there is- is to know how much refrigerant is in the system- this can only be done by recovering and weighing the refrigerant!!
Just a thought.... 65% of A/C failures in my 3200 car diagnostic database (GM vehicles) are due to loss of refrigerant due to a leak......
knightgang on Sun April 25, 2010 11:25 PM
Hey GM Tech,

My blower motor has two prongs in the plug outlet. I applied wire leads directly to them to to apply the 12v. As for the box unit that is in the circuit before the motor itself, I assumed this was still a blower resistor, just of a different design due to the Auto Climate Control. I did not apply 12v to it, I ohms tested it, similar to testing the resistor for the 4 speed switch version. I did, however, try to determine if that intermediate box was even getting power supplied to it by probing the plug that leads to the intermediate box and looking for 12v, or any volts for that matter and I found none. With the ohms test, and the blower test, I assume both are still good, and just not getting power to them, possibly from the control head.

I did not know that AC codes could be read. I looked in a Chiltons manual for ideas, suggestions and guidance today, and nothing I found covers Auto CC, just manual.

Am I still on the right track to continue to trace 12v current flow and see where I can find it and where it stops to trouble shoot, or is the system to complicated for that?
NickD on Mon April 26, 2010 8:58 AM
I inadvertently forgot to switch the ATC on my 92 DeVille to off, don't drive this thing everyday, hit the ignition, blower came on or tried to, was frozen, and blew the module, really didn't need a scanner to determine that, was shorted out, and the 30 amp fuse that protected it was good. Rather than spending 250 bucks for another piece of crap module, designed my own that would definitely blow the fuse well ahead. Determined from the chip size GM was using for the pass transistor, a power MOSFET transistor, only good for about 22 amps, that is very poor design.

Just saying, is possible to have good blower motor and blow that module, did pull it, just a bit of ice on one side of the blower wheel, but enough to keep it from turning. Stalled motors draw a lot of current.
knightgang on Mon April 26, 2010 8:32 PM
Nick, Seems you were right, the blower module is bad. I was able to troubleshoot with a mutilmeter today, and after some playing around, finally got variable volatge (0-12 volts based on the position of the fan switch) down to the module input plug. However, no matter what I did, I cannot get any voltage out of the module.

So, it appears that I will need to buy another Blower Motor Module for this thing to work.

Nick, I do not suppose you want to build me one like you described so that I do not blow another one.

Thanks,
Eric
NickD on Tue April 27, 2010 3:03 AM
Here's the circuit, have a photo of your module to see what it looks like? I built this circuit on my old module heat sink.


knightgang on Tue April 27, 2010 7:29 AM
No, no photo, but I do know it is AC DElco PArt number 158794. Three prong input and two prong output to motor.
NickD on Tue April 27, 2010 10:09 PM
Something like this?




Not very expensive like mine was, and really don't see much of a heat sink like the older ones, 25-50 buck range at rockauto.com, wonder if Tim sells them?
knightgang on Wed April 28, 2010 12:47 PM
No Nick, it was this one... GM Model # 16250785 AC Delco Part # 15-8794.

From my research, this module was only installed on 00-02 Chevy-GMC Trucks and SUVs that has Computer Climate Control. That is why it has been so hard to find, it is an older part and rare, not widely used.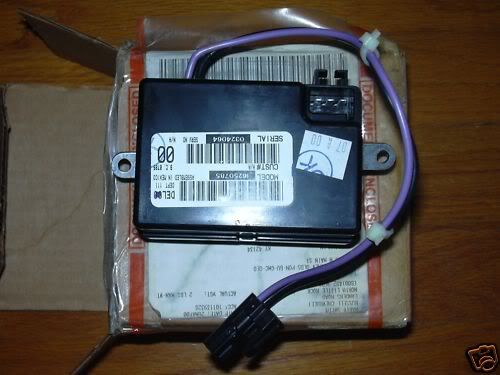 Check about 20 vehicles in a salvage yard yesterday, only one would have had it and it was gone...
About $114 from dealer at Jobber pricing. $169 to $214 from dealer retail, depending on dealer...

Edited: Wed April 28, 2010 at 1:13 PM by knightgang

TRB on Wed April 28, 2010 3:35 PM
$100.00 plus freight from ACKits.com

-------------------------

When considering your next auto A/C purchase, please consider the site that supports you:
ACkits.com

Contact: ACKits.com
Copyright © 2016 Arizona Mobile Air Inc.