69Sixpackbee on Thu June 19, 2008 7:55 PM
Year: 1972
Make: Chevy
Model: Pickup
Engine Size: 402
Refrigerant Type: R134A
Ambient Temp: 104
Pressure Low: 26
Pressure High: 305
Country of Origin: United States
This has been my third and last A/C upgrade in this truck because I finally got smart and put in the factory components. My truck is originally a non-air cab so I opted for an aftermarket unit several years ago. The unit worked fairly well but it was a totally recirc. system. I then scrapped the evap/heater unit in favor of a larger unit which was still a totally recirculating, TXV cycling system with a marginally larger evaporator. It cooled **okay** but still it cycled and the heater sucked and it lived up to it's name as the "Hurricane" because that is the sound it made. I had amassed a great deal of parts over the course of a few years to assemble the Four Seasons system into my truck so I tackled it a coupla months ago. All I did was basically graft the firewall section from the donor truck into mine and then just cut the holes in the dash for the factory vents. I put ALL of the factory components in place along with a freshly flushed evaporator, inside and out. I even insulated the evaporator housing to boot. Suffice it to say this is now just as the factory would have made it. I opted to keep it 134A because the previous iterrations were as such. I have a large piccolo condenser, new TXV, a readjusted POA (to 26PSI) and use a Sanden SD5H14-HD compressor instead of the A6 just because it is there, accessable and new. I put a new rec/drier and did some re-hosing but it looks factory. I also use a big pusher fan hooked up to a trinary switch for extra "oomph" when I am not moving. I really helps too. I was skeptical at first about using a smaller (8cu/in) Sanden pump as opposed to the original A6 (12 cu/in) but it seems to work just great. Even sitting idle, fan on low, the vent temps don't budge much past 40 degrees. I could'nt ask for better!

This thing I have to run on LOW! It pulls a hot cab down in just a few minutes and the vent temps keep right at 38-degrees when tooling around. The great thing about a POA is no cycling and consistent vent temps!
I should have done this the first time but live and learn. All I can sy is if you have a POA system...KEEP IT! Forget about those cheezy "POA Eliminators". A6's (if you have one) and continual cycling are not conducive to better cooling. POA's are still plentiful in the wrecking yards...at least out here. I have 4 of them all adjusted and ready to go.

I can attribute alot of the help from the folks here and by the posts I have read.


Thanx again for a wonderful interractive community!!


Bud Weaver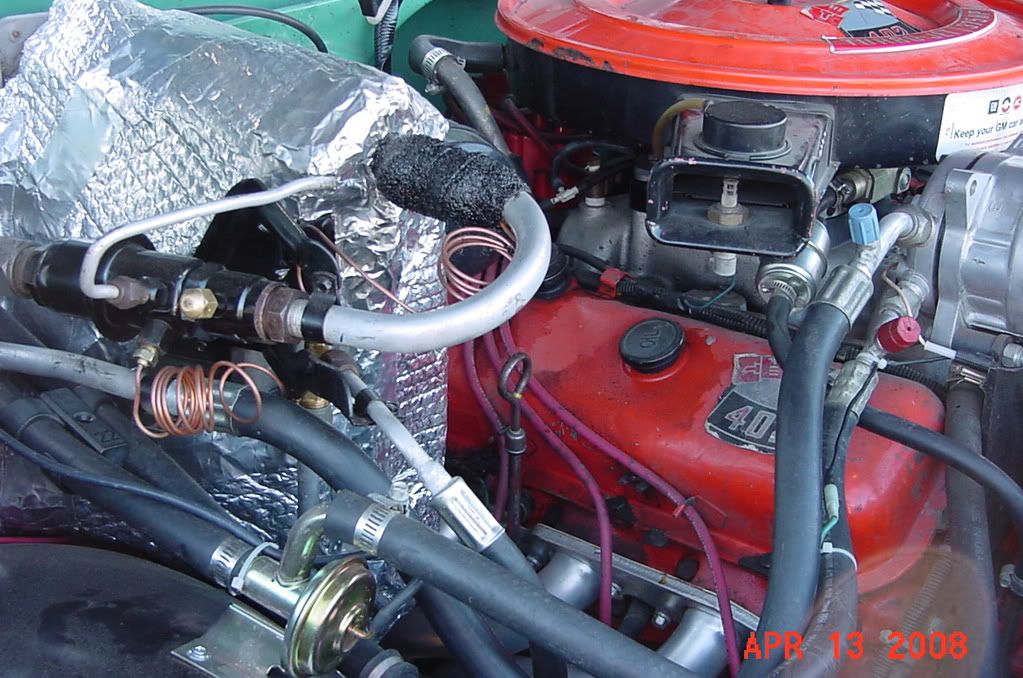 awc on Thu June 19, 2008 11:45 PM
What size is the condenser you used? How big a fan did you put on it 16"?
69Sixpackbee on Fri June 20, 2008 11:10 AM
The condenser is 14X27. Even though it is a piccolo design it is still much more efficient than the old tube and fin type that was original. One better, obviously, would be a parallel flow type but this has been working really well so far for me. Maybe I'll swap it out in a coupla months as these are dirt cheap anymore. The fan is a 14" Flex-A-Lite. I have a 17" fan w/thermal clutch on the truck as well so there is no problem with air flow.

...Bud

Edited: Fri June 20, 2008 at 11:13 AM by 69Sixpackbee

awc on Fri June 20, 2008 7:24 PM
Did you use an oem fan clutch? If you did what part number.
JJM on Thu June 26, 2008 3:14 AM
This is what I keep telling everyone... keep the system original, but they keep ripping out POA's and TXV's and think they're actually upgrading. They're not. CCOT systems were the product of cost cutting, and by no means superior engineering.

I would've kept the A6 though.

Joe


When considering your next auto A/C purchase, please consider the site that supports you:
www.ACKits.com
Copyright © 2016 Arizona Mobile Air Inc.